Career Services Workshops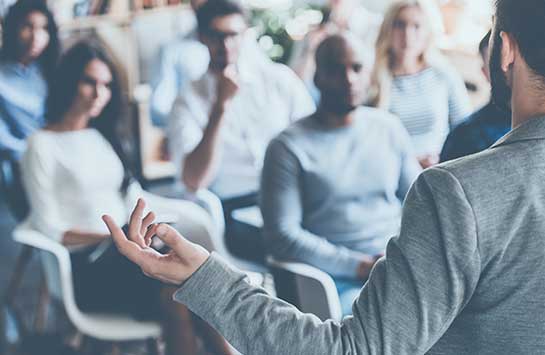 Career workshops provide educational opportunities for students to learn about key career readiness skills and topics.  Workshops are delivered by Career Services staff members.  Workshops span a gamut of topics including resume tips, navigating a career fair, and exploring majors to name a few.  Refer to the Career Services events calendar to find upcoming workshops open to all students. PLEASE NOTE: All Workshops this Fall will be Virtual.
For detailed questions, students are encouraged to contact Career Services for an advising appointment.
Note:  Some workshops are open to alumni.  Check the events calendar to confirm attendance details.
UIC Faculty, Staff, and Student Organizations:  If you are interested in scheduling a workshop for your class, unit, or student organization,  please complete a request form .  Content can also be tailored based on learning objectives and audience.  (Note:  Workshop requests should be made minimally two weeks in advance).
If you are not a UIC Faculty, Staff, or Student Organization and are interested in a workshop, contact Career Services.
Workshop
Description
Learning Objectives
Average Session Length
Resume & Cover Letter Workshop (also known as Create a Resume Workshop)
This workshop helps students understand how to construct a professional resume and/or cover letter relevant to the position being applied for.

Note: CVs are briefly addressed in this session. Students who have CV questions are encouraged to make a career advising appointment.
Understand the key sections of resumes and cover letters used and expected by employers.

Learn how to highlight experience and education in a detailed and organized manner within a resume and/or cover letter.

60-90 minutes (presentation, Q&A)
Navigating a Career Fair Workshop
This workshop helps students understand best practices in preparing for a job fair.
Understand the best way to approach and interact with an employer(s) at a fair.

Understand how to brand yourself to an employer(s) at a fair.

Understand how to follow up with an employer(s) after a fair.

60-90 minutes (presentation, Q&A)
Interview Essentials Workshop
This workshop helps students understand best practices and techniques in interviewing for a job.
Understand the different types of interviews that employers may conduct.

Learn how to best prepare for an interview (including what to wear).

Learn what are the common interview questions asked by employers.

Understand what is behavioral interviewing and how to prepare for typical interview questions.

Learn about best practices on what to do before, during, and after interviewing with an employer.

60-90 minutes (presentation, Q&A)
Connecting Majors to Careers Workshop
This workshop helps students learn how to proceed if they are unsure about career goals and/or selecting a major. Students will also learn about resources when considering career options.
Assess and understand one's interests, skills, and values as they relate to majors/careers.

Learn about and discuss what employers are looking for when they fill open positions and common myths (and truths) related to majors and careers.

90 minutes
Evaluating Job Offers & Negotiating Your First Salary Workshop
This workshop helps students learn how to evaluate job offers and how to negotiate their first salary.
Learn approaches and tips to review job offers (salary, benefits package) critically.

Learn basic techniques in negotiating a salary offer for the first after-college job.
60-90 minutes (presentation, Q&A)
LinkedIn Workshop & Profile Pictures
Most employers use LinkedIn to recruit. Students will learn about LinkedIn and its value and role in job searches and networking. Professional headshots will also be taken by a Student Affairs Marketing photographer during the workshop.

Note: Students are encouraged to bring laptops or other electronic devices to edit their profiles during the workshop.
Learn how to optimize a LinkedIn profile and other tips.

Receive feedback from career advisors on LinkedIn profiles.
90 minutes
Job Search Strategies Workshop
Students will understand ways to search for jobs beyond online postings.
Understand the role and importance of networking, informational interviews, LinkedIn, and career fairs in the job search process.

Learn best practice approaches in launching a job and/or internship search.
60 minutes