Who We Are
Career Services empowers you to find your fit in the world of work. Our expert guides are available from the moment you arrive on campus, throughout your studies, and even up to three years post-graduation. We offer one-on-one advising, career preparation programs, and events to help connect you with opportunity.
STATEMENT OF SUPPORT
The Career Services and Student Employment staff acknowledges the pain and sadness that the Black community has experienced due to the senseless murders of Ahmaud Arbery, Breonna Taylor, George Floyd, and countless others – and we grieve alongside all of you.
 We condemn the systemic racism, police brutality, white supremacy, and all forms of racism that have significantly impacted the lives of our students as well as our faculty and staff colleagues.
We commit to the continued support of our students and alumni on their life and career journeys and to providing inclusive opportunities and services that promote success.
We will work to empower students and alumni to find ways to stand up for human and civil rights in their chosen occupations.
We resolve to better educate ourselves as higher education professionals working towards the shared goal of social justice, all through the lens of our values of service, diversity, education, connectedness, support and leadership.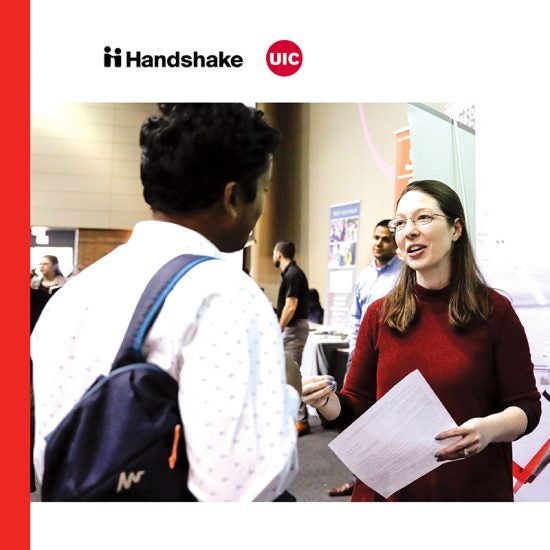 HANDSHAKE IS NOW LIVE!
This summer, UIC official became a Handshake school! We are very excited to move to Handshake, which is the premier site for connecting students to a wide variety of employers and opportunities!
Here are some important things to know:
• All students registered for Fall 2020 were automatically uploaded to the system – simply log in with your University credentials to "claim" and activate your account! Be sure to complete your profile so that Handshake can begin suggesting opportunities for you!
• If you are new to UIC, please note that we will be updating the system weekly as students register over the summer. So if you cannot log in yet and you are registered, just wait a week or so and you should be able to access the system.
• UIC Alumni are welcome to create new accounts on the system as well! Just follow the directions to register for a new account and we'll get you approved right away.
Learn More
VIRTUAL CAREER ADVISING RESOURCES
WE ARE CURRENTLY OPERATING REMOTELY!
Career Services
While career related programs, events and job fairs have been cancelled until further notice, the Career Services staff is available for full service individual advising assistance, Monday – Friday, 8:30 a.m. – 5:00 p.m. There are multiple distance career advising options during the online instruction classroom period at UIC.  Advisors are available via email, online conferencing, or phone to discuss any career related questions.  For more information regarding our services, please visit https://careerservices.uic.edu/.
Virtual Appointments
Please contact our main line at (312) 996-2300 or via email at careerservices@uic.edu to schedule an appointment, or if you have additional questions about accessing our services.
Virtual Walk-In
Open to all students and alumni. Log into Zoom for a quick interaction with an advisor to address a variety of career questions on Mondays: 11am-1pm & Thursdays: 3pm-5pm.
Virtual Walk-In Session – Spring 2021
Zoom Meeting:  https://uic.zoom.us/j/87002921222?pwd=dmdIYmhRaTBoZkdFMVhqNHBVSndmQT09
Meeting ID: 870 0292 1222
Passcode: 7PZRJ3!c

Engineering students, please visit the Engineering Career Center website for information on virtual appointments including resumes reviews, CPT processing, salary negotiations and more: ecc.uic.edu
College of Business Career Services
The Business Career Center is open virtually with all resources available to UIC Business students, including career advising, workshops, job and internship opportunities, career fairs, and more. UICcareers.com is the online career resource exclusively for UIC business students. Business students can use Handshake for career opportunities, too.  Need an appointment? Log in to UICcareers.com and click "Counseling Appointment". Need a resume review? Undergraduate students may email an MS Word document to resume@uic.edu.
The Business Career Center Virtual Front Desk is open from Monday – Friday, 8 a.m. – 5 p.m.
Questions? Phone: (312) 996-5139; Email:  bcc@uic.edu; Zoom: Monday-Friday (10:00 a.m. -2:00 p.m); Website: Business Career Center
LAS Career Development and Internship Office
The LAS Career Development and Internship Office is now taking video/phone appointments Monday – Friday 9am – 5pm. Please visit: student.las.uic.edu to schedule your career advising appointment. We are also offering online resume reviews for a "quick glance". Feel free to send your resume to LASinternship@uic.edu. You will receive feedback within 2-3 business days. Please visit the LAS website at career.las.uic.edu for upcoming webinars, recorded webinars and online resources.