Career Services empowers you to find your fit in the world of work. Our expert guides are available from the moment you arrive on campus, throughout your studies, and alumni receive lifetime access to UIC Career Services. We offer one-on-one advising, career preparation programs, and events to help connect you with opportunities.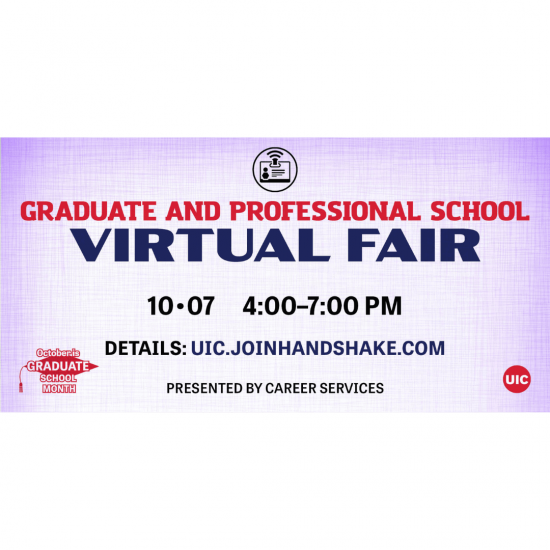 Graduate and Professional School Virtual Fair
Join us for a virtual event where you can connect with representatives from many programs in a variety of disciplines! Be sure to register ASAP and sign up for sessions prior to the event at uic.joinhandshake.com.
Register
New for 2021/22 – In Person AND Virtual Walk in Hours!
Need an answer to a quick question or resume/cover letter review?  Wondering about the best way to approach a difficult interview question? Need some fast advice about a job offer? Take advantage of a 15 minute "no appointment necessary" opportunity to check in with a career advisor for answers!
In Person – Career Services Office in SSB
Tuesdays from 12:00 p.m. – 2:00 p.m.
Wednesdays from 2:00 p.m. – 4:00 p.m.
Virtual
Thursdays from 3:00 p.m. – 5:00 p.m.
Career Services News & Events
8/24/21, 12:00 am–12/14/21, 12:00 am
8/25/21, 2:00 pm–12/15/21, 4:00 pm
8/26/21, 3:00 pm–12/16/21, 5:00 pm